Lia van Elffenbrinck
How Art came into my life
This is My Story
How Art came into my life
I started painting in 2007 as I felt very very bad. I had nothing left: no home, no work, no friends. Then I noted how good it felt to paint, so I painted and drew just to myself. Sometimes I used these paintings as a present for my children, but I never showed the world what I was doing. In 2015 my very dear friend Dami told me, that I was an artist and I should do something with it. That was an eye opener which first made me scared. Of course in my life I was always painting, but I thought that it was quite normal and everyone would do that.
As a child my mother, being a very good coupeuse seamstress, sewed my colourful clothes. They where very beautiful, but they made me different from other kids. My father was an architect and he showed me to look and to see. My eyes became the most important tool in painting. Looking at buildings, I saw the roofs, the windows, the doors, the bricks and all those colours. I saw some buildings smiling and some buildings being very angry, as if they had a life of their own. Both my parents have established a feeling for beauty and colours in me.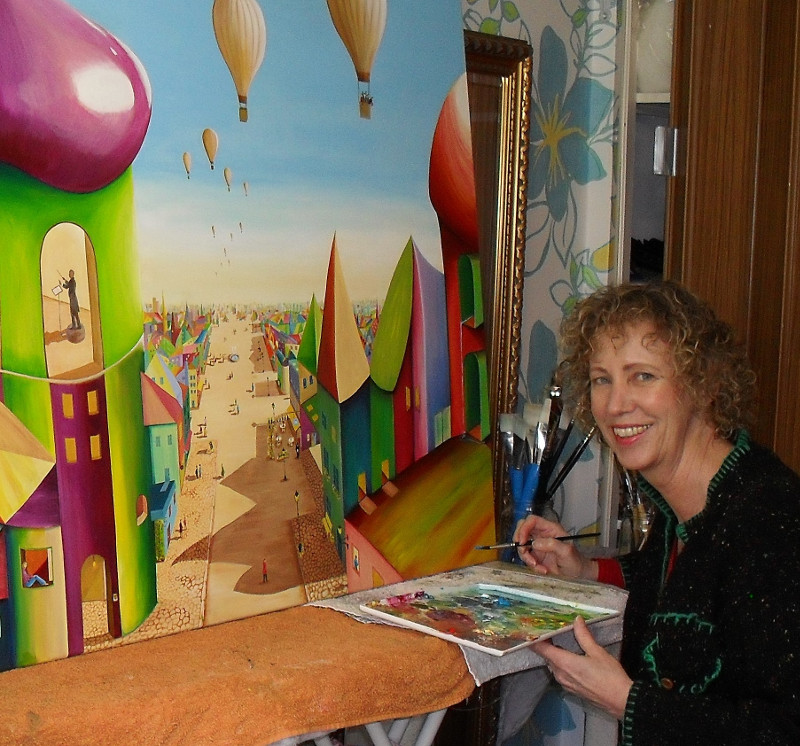 If you want to know more about me working, look on: the painting process. Sometimes I want to work abstract, but sometimes it has to be figurative and sometimes a combination of both. I use acrylic paint, oil paint, gouache or pastel chalk. I can not really choose one type of paint, so I use them alternately, sometimes also together on one canvas.
I give workshops in The Netherlands where I share my knowledge and skills with great pleasure. I also work on paintings on commission, make murals and give color advice. Not only for the design of someone's home or business, but also for the theater  or as decoration at themed parties, or other projects, such as The Colorfield Performance in 2018 in Sloten in Friesland, The Netherlands.